The Shingora Festive Collection: Stoles and Shawls for this Winter Season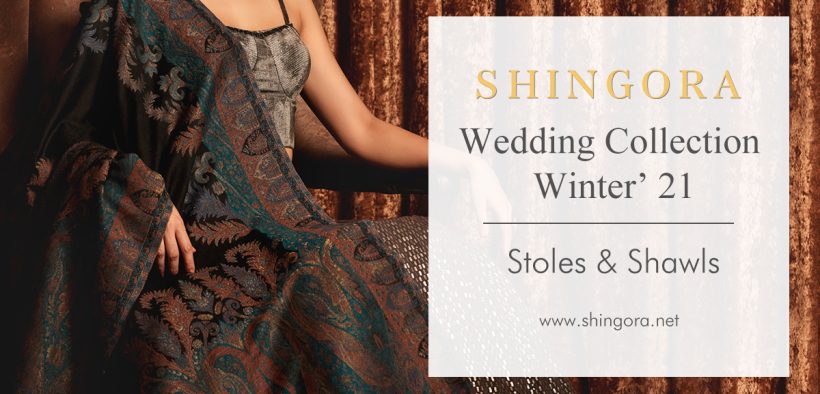 India is a land of a diverse population and rich culture. In a country where the people, clothing and food change every 100 kilometres, every day seems to be a festival. The mammoth celebrations and festivities are the highlight of this diverse land. However, these festivities are more visible as we move towards the end of the year and they are incomplete without the Traditional Indian Outfits.
Shingora has always strived to create products inspired by Indian culture and heritage. The unique designs and styles are the centre of attraction when it comes to stoles, shawls, suits and dupattas.
This festive season Shingora has come with a new collection called 'The Festive Collection'.
The festive collection is inspired by the age-old traditions going on in India. The designs of this collection are an amalgamation of the rich culture and modern-day designing techniques. Both of these aspects are incorporated to conceive the fresh designs of all the articles in this festive range. This collection features party wear shawls, wedding and festive shawls and stoles, wedding gift shawls and stoles, suit co-ord sets and dupattas. The designs for these articles are specially conceived for this festive season. This collection is a reflection of Indian culture and heritage.

The super-soft fabric and top-notch quality make it a perfect fit for the gifting range. This festive season the festive collection is the highlight of all the collections.
Talking about the range of shawls and stoles, the wide range, unique designs inspired from the rich Indian Traditions and the super comfortable quality are the aspects that make them a perfect choice for gifting during this festive season. Available in woollen and metallic thread these are a perfect choice for the season. Other than this the collection features beautiful suit co-ord sets. Suits have always been a great gifting option during the festive season.
Available in a wide range of colours and patterns, these have always been the first choice of our customers throughout the season. Not only this, the printed and designer dupattas are one of the most loved articles of this collection. All these are conceptualized and designed by our creative designers and every article is designed with utmost love and excellent craftsmanship.
This festive season, these shawls, stoles, suit co-ords and dupattas are a must-buy to celebrate the beauty of our rich culture. Shingora has always tried to make the celebrations more special with the beautiful festive collections and strives to continue the same. Festivities and occasions are the days when people not only celebrate the festival but also cherish their bond with other people. May it be friends or relatives. So, why not cherish these bonds by gifting them some beautiful tokens of love. This festive season the festive collection is here to make your celebration more beautiful.