Shingora End of the Season Sale: Right Time for Indulging in Retail Therapy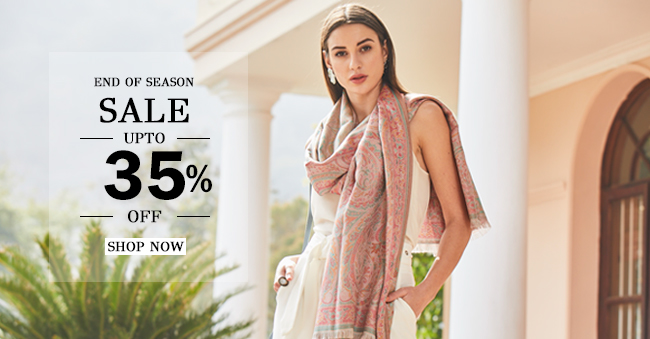 Updated
One of the many things we learnt during the lockdown the most important one is that shopping is, without an iota of doubt, one of life's top pleasures and we're not giving it up any time soon. A little retail therapy can go a long way in putting any girl in good humour. Shingora has been working hard to make sure you get the ultimate satisfaction that comes only from getting a good deal. Not only does Shingora brings you an end of the season sale with up to 25%(now 35%) discounts on their gorgeous wear-around-the-year stoles, shawls & more but also another irresistible offer. When you purchase dupatta worth 1995/- or more you get a mask combo free.
Keeping your style and safety in mind, Shingora has added an antiviral and antimicrobial coating to all their accessories including dupattas and masks. This coating inhibits viruses and kills bacteria upon contact for more than 30 gentle washes. The best thing is that you don't have to pay a penny extra for this valuable addition. at the same price. Isn't it cool when you pay less and get more!
If the first thing people noticed about you was your smile then your facemask is the first thing, they notice about you now. With face masks being touted as 'little black dress' of the pandemic, wearing an aesthetically appealing one in public space is imperative now. Let's face it unless a mask is soft, comfortable and breathable, we end up slipping it off our faces especially in the sweltering heat of monsoon season. When you choose Shingora, you not only get masks that you would love to wear but also an extra layer of protection of antiviral and antimicrobial coating that remains effective for up to 30 washes.
In case you stepped out in a hurry and forgot to pick your mask, you can easily fashion one out of your Shingora stole or dupatta. Not only these beautiful accessories come with the same antiviral and antimicrobial coating but also made of certified and authentic material such as organic cotton which is soft and skin-friendly in all seasons. You don't need a reason to indulge the fashionista in you when your favourite brand is offering up to 25%(now 35%) end of the season discount. The joy of getting a great deal is priceless!