Retro to Now – Full Circle in Scarf Styles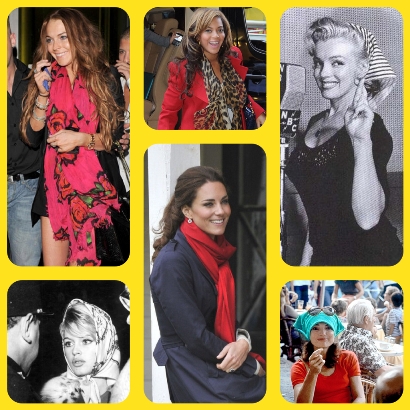 Around the globe and over time, scarves have maintained their place in the wardrobes of the trendiest women. Take a page from history and go in for a throwback to the times when glamour was mainstream or choose a more contemporary look. The versatility of this timeless piece of accessory is well documented through the years and whether it is Audrey Hepburn or Kate Middleton, it has retained its charm in one style or the other. Step out to the supermarket the way royalty does by casually draping it around your neck. For a diva-like look, choose from an array of drapes for the head that were preferred by Hollywood royalty.
There aren't many rules to what makes for a good drape but in general, the more slouchy a drape, the more casual it is while a more structured drape is formal. For a great everyday look, simply gather around your shoulders or wrap around the neck with a twist or two, adding a knot for longer scarves, while leaving a smaller scarf hang loose. Fold the scarf lengthwise or diagonally and knot on the side or front for a finished look. Shorter styles in silk and wool that are crisp to look at add a glamorous touch to your outfit. Longer stoles in cotton and linen draped in a relaxed manner make you look smarter even in the most casual clothes.
The thing about scarves is that you get to dress up or down your look without much effort. For a fuss-free accessory, a scarf is a wonderful style enhancer that turns a plain Jane outfit into a chic one just with a twirl. Before you step out in your cashmere sweater or a simple shift dress, twist a stole in your favourite style and watch the compliments pour in.