Perfectly Paired Scarfs – Shingora shows 5 ways to pair scarfs with your outfits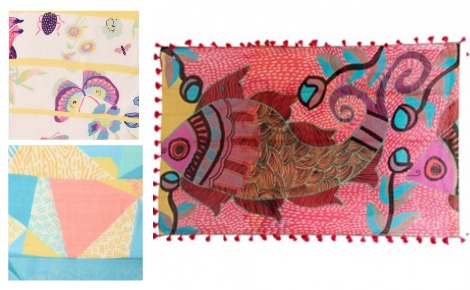 A Scarf for every day, a day for every Scarf!
Having a wide variety of scarfs is a day saver when it comes to putting together an outfit that won't let you down. With cottons, silks, blends and more in your wardrobe, in a melange of prints and embellishments, you can be ready to impress in a jiffy. Whatever you choose to wear to beat the heat with panache – shorts, jeans, trousers or dresses, there is a scarf that will compliment your outfit perfectly, making it look many times better. Here are 5 ways that you can work different outfits and make them stand out with scarfs.
| | |
| --- | --- |
| | A cool pastel scarf in a geometric design is the best thing you can pair with your summer shorts. A collared tee and frayed denim or white cotton shorts will instantly become magazine chic when you team them with a stunning scarf like this piece from Shingora. For a more stylish look, loop the scarf through as a belt. Tie the scarf belt on the side or at the centre, it looks absolutely gorgeous. |
| | Nature inspired prints are hot this season and you can team them with your day wear dresses to be fashionable. Teamed with peach, lemon, lavender, lime, rose, powder blue and many other soft tones, it takes smart casuals to a new high. Tie around your neck in a short knotted style or embellish the handle of a bag with a knotted scarf gracing it. It is the versatility of different knots and wraps that lets you make the same outfit look very different every time you pair it with a scarf. |
| | Brilliant colors in a traditional yet trendy patchwork pattern make for a great accessory for sophisticated evening dresses. The most elegant dresses can do with a pop of color; think how amazing a simple LBD would look with this chic scarf from Shingora around your neck. Formals need not look boring or staid anymore when you can turn heads in striking patterns and colors such as these. |
| | A rich pattern coupled with elegant colors, this Shingora stole is a wonderful accessory for a special day at work, to be paired with a well tailored pair of trousers and a stylish blouse. You can never go wrong with a detailed pattern in muted tones when you want to put your best foot forward. A simple loose knot or a more stylish loop make your pant suit turn into a powerful statement. |
| | Pretty and stylish, a scarf like this one from Shingora will make everyday staples like your jeans turn into a much admired look. The embellishments on the edges add an element of fun to the fresh pattern and trendy colors. Go for a cool drape around the neck and be ready to wow one and all. |