Magnificent Co-Ords for Winter Dates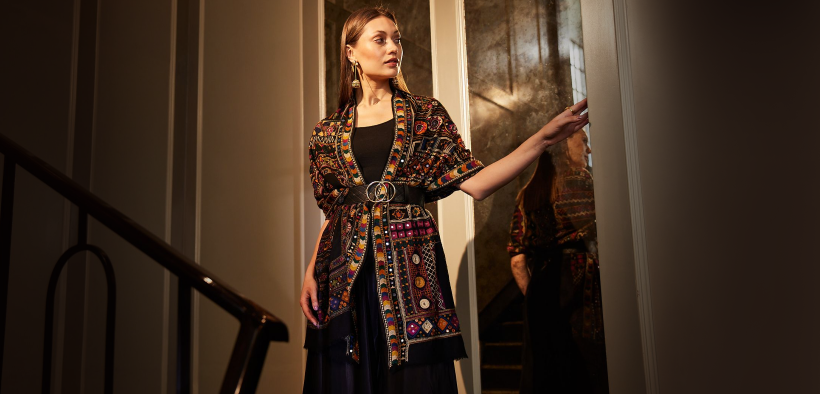 Winters are the time to connect with those who fill your hearts with warmth and love, i.e., winter dates. If you have them planned already and are wondering what to wear for your dates, we have you covered. Our extensive range of winter clothing and accessories is just what you need to create magnificent co-ords that people will go gaga about. But if you are in need of some inspiration, we have five co-ords that can get you started.
Five Magnificent Co-Ords for Winter Dates
1. Stunning "Sharee"
Let's begin with a versatile outfit – the saree! You can create a sensual or a cute, charming look just with the right choice of saree + shawl. Team the 5 yards of elegance with a spaghetti top, a collared shirt or a turtleneck top, and a divine shawl. Don't forget to wear your smile and your confidence. Your beau won't be able to take their eyes off you, we promise.
2. Suit Up!
Next up are the suit co-ord sets. Suit sets can really be a savior when you want to dress up for those last-minute winter dates. They need minimal effort as each is a complete set put together, and you can wear them with your thermal wear, too. A choice of suit co-ords in your wardrobe will also enable you to mix and match different sets to create a distinct outfit every single time. For those who are not keen on wearing off-the-rack sets, custom-made suits using co-ord fabrics can just be the answer.
Try our collection of suit co-ord sets, which is available in a range of colors and fabric to "suit" your requirement. A dark toned silk or silk blend co-ord suit with a color co-ordinated shawl or a woolen stole will keep you warm while looking fabulous. Try our shawls and woolen stoles with the suits to create charming combinations. For a majestic look, go for a heavy dupatta and an equally regal shawl or a stole!
3. Dress Up the Dress
You can also create stunning co-ords with your dresses. An exquisite printed or woven drape worn with a simple black dress, for example, will transform your look instantly. This look, we think, is perfect for romantic date nights. Having a good selection of dresses in varied lengths and fabrics can come in handy to ensure you do not repeat one look frequently.
4. Team "T"
Co-ords can be beautifully paired with western wear, too. A stole with a basic white t-shirt and a blue pair of jeans will add an elegant touch to an otherwise casual look, making it absolutely perfect for a coffee date. Enhance it further by adding a statement piece of jewellery and carry a bag that goes well with the attire.
5. Lovable Layers
Layering is a sure shot way to give a new twist to the same old clothes. Wear your choice of clothing, followed by a trench coat or a jacket and top it with a neutral-colored shawl tied around the neck in a loose, comfy loop. This styling technique is a great option when heading outdoors.
While these ideas will get you started on creating fashionable looks for your winter dates, do let your creative juices flow and create some co-ords of your own. Now, whether you're dining at a restaurant or taking a romantic walk down a scenic lane, you can be rest assured that you've carried a perfect outfit.