Fashionable Winter Ideas for Fashionable Men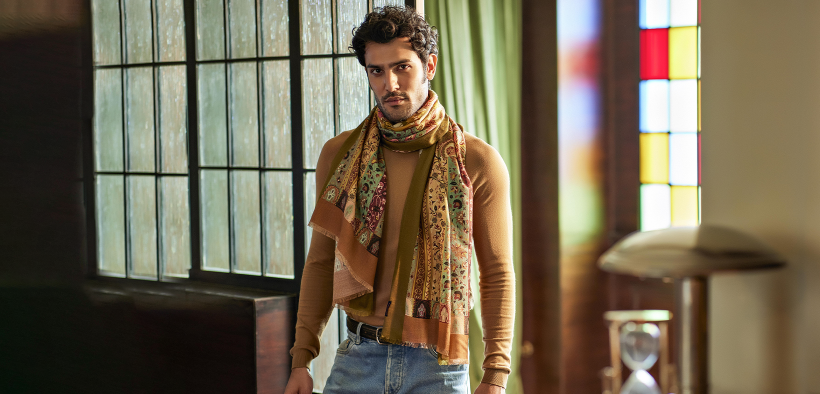 Although fashion is subjective, trends never fail to make their presence felt. Take menswear for example; how many combinations can you put together with the same old outfits? The answer is – ample to leave the right kind of impression. How, you ask? By adding character to your existing garments with layers (it's winter after all) and accessories (because, why not!). Take a look at these winter fashion ideas for men and we promise, you will be the talk of the town.
Four Fashionable Winter Ideas for Fashionable Men
Come winter, and all you'd want to do is ensure you stay warm but not at the expense of looking ordinary. These winter fashion ideas for men will ensure you look your best for every occasion.
1. Monochromatic Magic
Intricacy can be trendy, but simplicity is beautiful. Monochromatic looks are effortless and timeless. A solid-colored pullover or turtleneck sweater worn with matching bottoms won't ever fail you. That said, on the days you need a pop of color, add a vibrant muffler or one of the belts from our collection and you're sorted.
2. The Basics
Everyday menswear consisting of the basics (t-shirts, jeans, and trousers) can be layered with winter wear to stay comfy and look super chic. One of the most recommended woolen wears to pair with the basics are the mufflers. Fine material mufflers in rich hues, like Shingora's range of mufflers, can easily uplift any outfit. Do try different types of knots and drapes; they can be extremely useful to create varied looks with the same clothes.
3. Ethnic Wear Spruced Up!
Imagine you're dressed in your favourite ethnic clothes for a ceremony. Suddenly, it gets chilly and all you have with you is a hoodie. It sure will keep you warm, but the most important question here is – Does it make or break your look? Just the way shorts don't go with sherwanis, quite a few menswear don't go with hoodies or even a sweater for that matter. Thus, a fine quality shawl is a must with traditional menswear.
Drape shawls in different ways and transform an already elegant traditional attire into a majestic one, all while ensuring you're cozy. We know that you'd simply love the classic crossover drape with the shawl neatly pleated or gracefully held over one arm, but we're also sure you'll be crushing over a neatly folded shawl carefully placed on one shoulder.
If you're going for a slightly relaxed look, scrunch the shawl up along the length, drape it over the back of the neck and leave the loose ends in the front or tuck one end over the opposite shoulder to create a comfortable loop in the front.
If your ethnic outfit doesn't need an intricately woven shawl, try using solid-colored shawls; they are perfect for most events. Whichever you choose, be sure to pick only the shawls made with superior quality material, like the collection of premium Lohi shawls we have mindfully created in designs you won't be able to resist.  
4. Suit & Blazer Co-Ords
They say that one high quality suit or blazer is anytime better than a wardrobe full of mediocre ones because "premium" never goes unappreciated. The same applies to accessories. Even when you have limited options, you can create some absolutely stunning looks and turn heads wherever you go. Thus, fine suit accessories made using superior materials, such as Shingora's ties and pocket squares, as a must in your wardrobe.
Remember a few tips, though, when you want to suit up.
Ensure your suit is tailored for your size.
Always button the shirt at the top if you're wearing a tie.
Match the tie with the color of the suit and the shirt.
Choose the right tie knot for your event.
Ensure the tie ends at the waistband.
Pick a pocket square that is in contrast with the color of the chosen tie and suit.
Wear a good quality belt.
Try one of the many folds for your pocket square, and to complete the look, opt for shoes that match your suit or blazer.
For all the fashion-conscious men out there – while these ideas will help you create waves, explore our extensive collection of menswear and experiment with colors, fabrics and textures to invent and polish your own style and wear it with confidence and pride.