Designer Shawls That Make You Vogue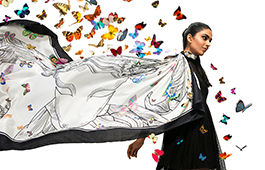 Winters are here and one of the biggest challenges one faces is how to make their ensembles stand out and shine. While layering up may allow one to play with some colour but the best option we suggest is to accessorize! One accessory that keeps you stylish yet warm are designer shawls by Shingora.
In the wake of year 2019, here are a few suggestions for the types of shawls that you can purchase to make your winters extravaganza-
Cashmere, also known as Pashmina is one of the softest, most luxurious wools in the world. Cashmere shawls give you an entirely different yet stylish look to match with your occasional wears. You can make your evening more beautiful with these breathtaking pashmina shawls.
Merino, luxuriously soft and cozy, the Merino shawl envelops you in warmth and understated elegance. The Merino wool is a natural that comes from the Merino sheep. It's thinner and softer than regular wool—making it easy to wear. It's simple and classic designs allow you to wear it in unique ways during the cold months. Buy merino designer shawls online to complete your winter look.
Silk, as the very name emanates richness, is considered as one of the most esteemed shawls not just in India but also across the world. True to its name the shawls bring richness to the ensemble, as a whole. They are safe to use and can make any outfit look more attractive and gorgeous. It is more like a style statement. The silk shawls redefine the style protecting your skin from the evening chill.
Fabulous and amazing collections of shawls are offered by Shingora, which is premium brand catering to the high fashion requirements of women, men and kids. All the variety of shawls offered by Shingora are either Woolmark or Silk Mark certified. The Woolmark certification ensures that all the shawls are made from 100% pure wool and have been approved and certified to meet quality specifications and offer natural comfort to wearer. The Silk Mark also ensure the quality, as this label is used on product that are made from 100% pure silk. With this new fascinating fashion apparel by your side, you are safe to drag that dress out from the profound pit of innumerable other desolate garments hanging dubiously on the wardrobe rack with it, feeling sure that you will look breathtakingly beautiful.